General FAQ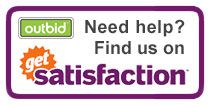 Live auctions. Finally done right.
Outbid is an interactive online auction that connects buyers and sellers in a fun, social, gaming atmosphere. Auctions are hosted in real-time by live auctioneers, where users compete to outplay, outlast, and outbid each other.
| | | |
| --- | --- | --- |
| Auction starts at a certain time, with no end time | Animated experience with a live video feed | Items sold to the highest bidder, plain and simple |
What makes Outbid different?
Outbid connects real sellers and real buyers in a live, online auction platform. Instead of waiting for days for an auction to end only to see a robot snipe your item at the last second, you join Outbid auctions when they start. As soon as your item shows up, you keep bidding until it's sold.
Outbid gives you an immediate, interactive, transparent, and truly fun bidding experience.
Do I have to pay any fees?
Good news! We currently do not charge any fees to bid on an item or post an auction.
Is Outbid available outside of the United States?
Outbid's service is currently only available in the United States. As we continue to grow, this is definitely something that we'd like to consider.
How do I set up an auction?
Just click on the giant "Create Auction" button at the top of the page to get started. Add your items, schedule your auction, host your auction and you're good to go.
Please review our Seller FAQs to learn more about selling on Outbid.
How do I bid?
To bid on an item, you will have to RSVP for an auction if it's scheduled in the future or click on join button if it's an auction that is happening at the moment. Once you enter the auction, you will be directed the lobby where you can interact with the seller and other bidders in the room.
The lobby lasts for 15 minutes or even shorter or longer depending on the seller's choice. Once the lobby is over, the auction will start and you will be able to bid on an item by clicking on the bid button on the left of the screen.
How do I contact another Outbid member?
To contact another Outbid member, click on their name to go to their profile page. Click on the "Contact" button to send a message to the buyer/seller.
How do I contact Outbid?
If you have any questions or concerns, send us an email at: customerservice@outbid.com
You can also find us in the following communities:
---